XNUMX Enjoy on the spot!Ise Sweets
XNUMX Yamamura Milk Gakkou (山村みるくがっこう)
The most popular product, "Purin Soft," is a combination of handmade purin (flan), which is slowly baked in a jar at low temperature, and rich soft ice cream made with 100% raw milk from Mie Prefecture.You can feel the flavor and richness of the milk, a sensation that only a milk specialty shop can achieve. The old-fashioned milk bottles and school-like stores are also cute and retro. There are shops in Geku Mae and in Oharai-machi.
Address: Naiku Maeten XNUMX-XNUMX Ujiimazaike-cho Nakakashuraku, Ise City, Mie PrefectureGeku Mae-ten XNUMX-XNUMX Honmachi, Ise City, Mie Prefecture
Kinoshita Chaen
Boiled upon order, Ise Matcha Kinako Shiratama is a popular product made with chewy homemade Shiratama and homemade 100% Okinawa brown sugar syrup.Goes perfectly with the fragrant adlay kinako flour.Other popular items include parfaits and green tea drinks that change with the seasons. Tea packs are also available for purchase, making it a great gift.
Address: Ho-onkan 516F 0037-1-1 Iwabuchi, Ise City, Mie Prefecture 31-1
Dandelion Chocolate Ise Gekuten (ダンデライオン・チョコレート伊勢外宮店)
Ise Hot Chocolate, available only at the Ise Geku Mae-ten, is made with hojicha tea grown and roasted in Watarai-cho, Mie Prefecture. We also recommend the canelé, sold only at the Ise Geku Mae-ten! This shop and cafe is located along the Ise Geku-sando approach to the Ise Shrine, marked by a cute, retro red roof. The stylish exterior is perfect for taking pictures.
Address: 20-24 Honmachi, Ise City, Mie Prefecture
Hachimitsuya Matsujironomise Ise Oharaimachiten (はちみつ屋松治郎の舗 伊勢おはらい町店)
"Hanipote" are candied sweet potatoes coated with Matsujiro's homemade honey. They are crispy on the surface and moist inside, making it easy to eat as many as you like. Hanipote Parfait and Hanilemo (Honey Lemonade) are also recommended. The honey cubes as toppings are as expected of a honey specialty shop. There is a shop in Oharai-machi.
Address: 516 Ujinakanokiricho, Ise City, Mie Prefecture 0025-7
Tofu An Yamanaka (豆腐庵山中)
.Unohana Donuts are made from the "okara" bean curd produced during the tofu making process, and water from the Isuzu River, which flows through the sanctuary of Ise Shrine. The donuts are carefully prepared in the shop and feature the gentle taste of okara. Tofu is of course available as well, as is healthy tofu soft ice cream made with over 50% tofu. The cute donut picture on the signboard is also an attraction.There is a shop in Oharai-machi.
Address: 95 Ujinakanokiri-cho, Ise City, Mie Prefecture
Ise Purin no Tetsujin (伊勢プリンの鉄人)
Ise Purin Toast is made by slowly soaking special bread in purin liquid and cooking it on a griddle. It's crispy on the outside and soft and fluffy on the inside.It also can be served with whipped cream or soft serve ice cream, so you can enjoy different flavors.Right next door is the highly recommended Marugoto Kaju-ten (まるごと果汁店), where you can enjoy orange juice and other fruit juices in their original state. There is a shop in Oharai-machi.
Address: 516 Ujiimazaikecho, Ise City, Mie Prefecture 0024-24
Kouya
Kouji Purin is a fermented sweet created by a long-established miso and soy sauce brewer that makes "koji (malt)". Tamari soy sauce and sweet koji, which Ise is well-known for, produce a rich sweetness and thick texture. These sweets are all handmade and feature rich flavors. There is a shop in Oharai-machi.
Address: 516 Ujiimazaikecho, Ise City, Mie Prefecture 0024-36
Sweets unique to Ise make great gifts!
Shirase (シラセ)
"Jingu Sugi (Shrine Cedar)" is a baumkuchen inspired by the cedar trees that grow in the sacred area of the Ise Shrine. The chef's dedication to carefully baking each item individually, layer by layer, is concentrated in this product. With its gentle sweetness, it is no wonder that it has long been loved by locals of all ages.They are also sold in small pieces that make great gifts.There is a shop in Kawasaki.
Address: 1-4-31 Kawasaki, Ise City, Mie Prefecture
Mother fruit
"Oshiraishi" is laid in the most sacred place of Jingu."Jingu Shiraishi cookie" made with that motif is an exquisite cookie with a gentle sweetness and a crispy texture.White and pretty cookies are cute and will be appreciated as souvenirs.It goes well with tea and coffee.There is a shop 5 minutes on foot from the outer shrine.
Address: 1-2-3 Okamoto, Ise City, Mie Prefecture
Mitsuhashi Panju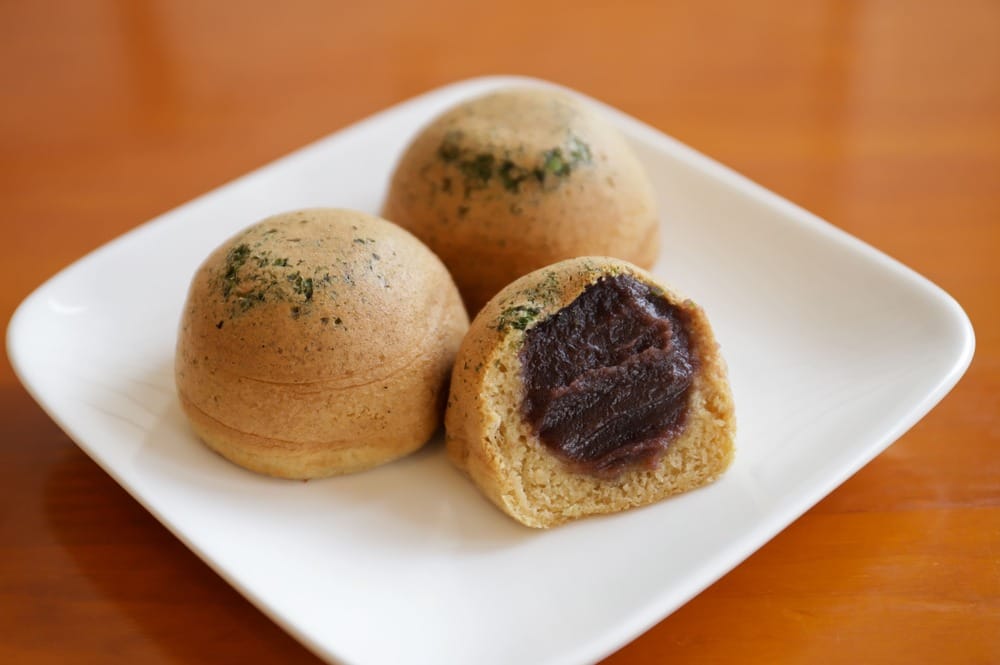 It is a classic snack of Isekko that combines "bread" and "manju".The palm-sized rolling shape is cute, and the contents are colorful and unique, so you get lost.The "joy set", which contains eight types of bean paste, mochi-iri grain bean paste, chestnuts, Ise tea, purple potatoes, custard, soy milk cream with uguisu beans, and seasonal products, is perfect as a souvenir.You can also eat freshly baked at the shop on the approach to Geku.
Address: 5-3 Honmachi, Ise City, Mie Prefecture
Blanca Sweets Garden
"Shell Reine" in the shape of a cute Akoya pearl oyster.It is an exquisite madeleine that is crispy on the outside and moist on the inside, making the best use of locally produced materials.It seems that Ise-Shima contains not only the shape of shellfish but also natural pearl shell calcium. At the "G7 Ise-Shima Summit", it was selected as a coffee break tea confectionery.There is also a small size that is easy to distribute, so it will be great for souvenirs.There is a shop right after getting off the Asama IC.It is also available at supermarkets in Ise city and convenience stores inside stations.
Address: 4228-1, Asama-cho, Ise City, Mie Prefecture
Isuzu Seigoan
In Futami-cho, Ise, which is famous for Meotoiwa, there is a Mishiodono shrine that makes salt for the Ise Jingu from ancient times. "Futamiura Iwato no Shio Yokan" is a handmade salt yokan made from the sea of ​​Futami and carefully kneaded without adding extra additives.The salty taste is exquisite, elegant and rich.It goes well with not only tea but also coffee, shochu, and sake.There is a store in Futami.
Address: 569-35 Chaya, Futami-cho, Ise City, Mie Prefecture
Beniya
The Japanese-Western eclectic "Ise Ondo Senbei", which was also liked by Emperor Showa, is a gofuru made with a unique combination of crispy Western-style senbei sandwiched with vanilla cream.The package of Ise Ondo is popular because it seems to be Ise.The shop is located in the Shindo shopping district near Iseshi station.
Address: 2-3-2 Ichinoki, Ise City, Mie Prefecture
Takeshi Nakatani Association
"Satanaka" is a cookie with the motif of Shinsen, which is also a meal of God.There are five flavors of salt, rice, sake, kelp, and brown sugar that are offered to the Kamidana.The fashionable package is also attractive, and there is no doubt that it will be praised as a souvenir.There is a store in Kawasaki.It can also be purchased at Kinoshita Tea Garden in front of the outer shrine.
Address: 2-4-4 Kawasaki, Ise City, Mie Prefecture
Ise's long-established taste
Fujiya Shougetudo Main Store
The beginning of "Rikyu Manju" was specially made when Ise tea masters invited Senke masters to Ise and held a Jingu tea ceremony in the Meiji era.A gem presented to the Emperor of the Showa and Heisei eras.It is a bun that is loved locally as a lucky charm of red and white.We also sell collaboration products with pastry shops and French restaurants, and the new taste is also popular.There is the Oharaimachi main store, the main building store along Route 23 from Matsusaka to Naiku, and the Miyamachi store about a 15-minute walk from Iseshi station.
Address: 46-1 Ujinakanokiricho, Ise City, Mie Prefecture
Haritaya Honten (播田屋本店)
"Ise Grand Shrine" was created as a confectionery when the Emperor Meiji visited Ise Jingu. "Itoin" is a mark of raw thread imported during the Muromachi period, and the pattern is burned on the rice crackers.It is a delicious gem with a nostalgic gentle and elegant sweetness, crispy and light texture.It will last for a long time, so it's perfect as a souvenir.There is a store in Kawasaki.
Address: 2-13-5 Kawasaki, Ise City, Mie Prefecture
Asahi family liquor bun manufacturing main office
"Sake Jiuqu" is a dough made by naturally fermenting rice bran without using sake or sake lees, and wrapped in homemade mashed bean paste using 100% Hokkaido azuki beans.The handmade buns are soft and chewy and have a nostalgic taste.A nice smell is overflowing outside the shop.There is a shop in front of the Futami Tourist Information Center.
Address: 107-6 Futami-cho Chaya, Ise City, Mie Prefecture
Toraya Uiro
Toraya Uiro's "Uiro", a raw uiro specialty store founded in 12, has a light taste and elasticity.In addition to the standard uiro, there are seasonal uiro, so you can enjoy the taste of each season.In addition to the main store at the entrance of Shindo Shopping Street, there are also stores in Oharaimachi and Ujiyamada Station.
Address: Head Office 2-2-8 Miyajiri, Ise City, Mie Prefecture
   Naiku Mae Store 91 Ujinakanokiricho, Ise City, Mie Prefecture
---
Ise sweets map