You can choose where to go and when.Avoid the crowds and enjoy sightseeing comfortably!
In this special feature, we will introduce rental bicycles operated by the Ise City Tourism Association and cycling courses.
There are 4 places where you can rent a bicycle, and you can choose from city bicycles and electric assist bicycles.There is also an electric assist, so you can easily go on slopes.You can decide where to go and when, and above all, it feels great!Why don't you consider renting a bicycle as one of the ways to go around?
This article is perfect for:
Interested in renting a bicycle
Those who want to go sightseeing freely without being bound by time
Those who want to avoid congestion and waiting in transit
Those who found a nice shop but don't have transportation
Please see the special site from the URL below for types of rental bicycles, fees, and rental locations.
*Currently, it is very popular.If you have a fixed schedule, we recommend that you make a reservation.
Cycling course
We will guide you through a course that goes around the standard areas of Ise.We also introduce spots around the course, so please enjoy it while taking a detour.
01. Geku/Naiku Course ~Take the Miyuki Road~
02. Outer Shrine/Inner Shrine Course ~Take the Old Town Road~
03. Kawasaki Course ~Go through the streets of Ise's kitchen storehouses~
04. Futami Course ~Take a tour of the land of Misogi to purify yourself~
05. [Limited Time] Sakura Course
You can choose a course from the menu on the upper left of GoogleMap.
01.Outer Shrine/Inner Shrine Course ~Take the Miyuki Road~
You will cycle along Miyuki Road, which connects Toyouke Daijingu (Geku) and Kotai Jingu (Naiku) of Ise Jingu.
Miyuki Road is an approach that connects the outer and inner shrines of Ise Jingu, and is about 6km long.The road was built in 43 for Emperor Meiji's visit to Ise Jingu, and it was the first road to be paved in Ise City.
Along the route, there are many detour spots such as Jingu Chokokan, Yamatohimegu Shrine, Tsukiyomigu Shrine, and cafes.On the way back, take the shortest route to Naiku and Geku on Mikimoto Road.

●Course content
Total distance XNUMXkm

[Rental/return location]
Gekumae Tourist Service Center
Geku-mae Tourist Service Center → Kintetsu Ujiyamada Station/Eiji Sawamura Statue → Kakunooka Ruins → Kamiokukaya Shrine → Yamatohime Shrine → Ise Otorii Gate → Tsukiyomigu Shrine/Yoshihara Shrine → Oharaimachi → Naiku → Geku-mae Tourist Service Center
◯ Outer Shrine Tourist Service Center
We are renting here.We have 10 city bicycles and 3 electric assist bicycles.
◯ Geku (Toyouke Grand Shrine)
For this route, let's visit Geku first before renting a bicycle.
◯ Naiku (Kotai Jingu)
In front of the Naiku, there is a bicycle parking lot in front of the Uji Bridge.Stop following the instructions of the security guards.
There are also cafes and gourmet spots near the course, so please refer to this special feature and drop by.
02. Outer Shrine/Inner Shrine Course ~Take the Old Town Road~
Before the Miyuki Road was built, it was the only road connecting the Outer Shrine and the Inner Shrine.Furuichi roadhad.The old highway is part of the Ise Kaido and prospered as a transportation route for many people during the Edo period.Due to fires and air raids, almost nothing remains of that time, and today, the Mayaki Ryokan conveys the atmosphere of that time.We will head to Sarutahiko Shrine and Naiku while stopping by the Isekuni Sangu Kaido Museum where you can see what it was like back then.

●Course content
total distance about XNUMXkm

[Rental/return location]
Iseshi Station Baggage Storage
Iseshi Station Luggage Storage → Nagamine Shrine →
Ise Furuichi Sangu Highway Museum→Sarutahiko Shrine→
Oharaimachi Street → In front of Naiku
→Iseshi Station Luggage Storage

◯ Iseshi Station Baggage Storage
We are renting it out here.Located on the east side of JR Iseshi Station.We have 10 city bicycles and 15 electric assist bicycles.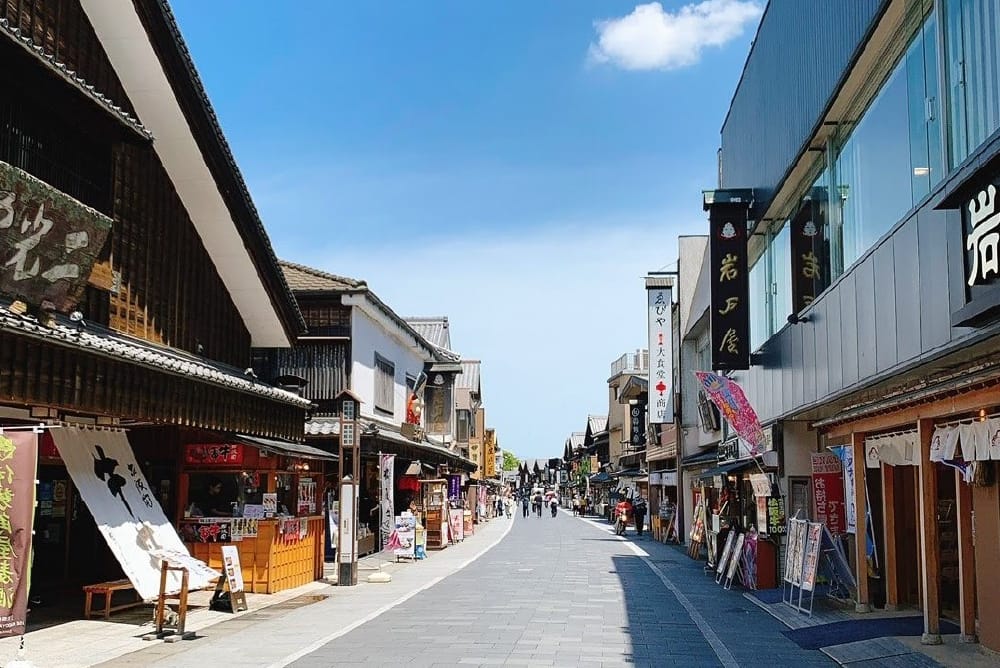 ◯ Oharaimachi Street
Although it is not for pedestrians only, it is often crowded even on weekdays, so please think about safety when walking.
◯Ise Highway
The mountain between Geku and Naiku is called "Ainoyama".Obezaka on the Geku side and Ushitanizaka on the Naiku side can be easily climbed with electric power.
03.Kawasaki Course 〜Going through the townscape of Ise's kitchen storehouses〜
Kawasaki used the Seta River to supply commodities to worshipers, and was known as the "Ise Kitchen" because it prospered as a wholesale district.Even today, the townscape of the Edo period remains, and you can go around on a rental bicycle while feeling the atmosphere of those days and the wind of the Seta River.

●Course content
total distance about XNUMXkm

[Rental/return location]
Iseshi Station Baggage Storage
Iseshi Station Baggage Storage → Along the Seta River →
Ise Kawasaki Merchant Museum → Kawasaki River Station →
Nakamura Coffee→Iseshi Station Luggage Storage
◯ Isekawasaki Merchant Museum
A long-established sake wholesaler "Ogawa Liquor Store" founded in the middle of the Edo period has been restored and renovated as a historical and cultural exchange center while retaining the atmosphere of the merchant town of Kawasaki.
◯Kawasaki river station
You can take a break while watching the Seta River on the deck. In the museum on the 2nd floor, photographs of the townscape from the Showa era are displayed.
◯Nakamura Coffee
A famous store that served coffee at the Ise-Shima Summit moved to its new location last November.
We also have sweets such as chocolate and canelé.
There are many popular Ise udon shops and traditional long-established shops around the course.Please refer to the special feature below.
04.Futami Route ~Futami's Shrine and Meoto-iwa Rocks, the City of Misogi and Salt
Since ancient times, Futami has been visited by many visitors as a place of purification before visiting Ise Jingu.
We also continue to make the salt that is used for Shinto rituals at the shrine.
It is a course that goes around shrines and spots related to these.

●Course content
total distance about XNUMXkm

[Rental/return location]
Ise Couple Rock Meoto and Yokocho
Ise Meoto Iwameoto Yokocho→Katata Shrine→
Futami Shrine → Takagi Shrine → Mishiodono Shrine →
Futami Okitama Shrine/Meotoiwa→Ise Meotoiwa Meoto Yokocho
◯ Ise Meoto Iwameoto Yokocho
It is available for rent at Meoto Rock Activities in Meoto Yokocho.in advanceTelephone reservationSize: XNUMX mL
◯Meotoiwa Omotesando
After passing through the ryokan town, a row of pine trees spreads out to Futamiura Beach.Futami Okitama Shrine and Meotoiwa rocks are ahead.
◯ Near the mouth of the Isuzu River
It runs near the mouth of the Isuzu River, which flows from Ise Grand Shrine (Naiku) and flows into Ise Bay.
05. [Limited time offer] Sakura course
In 2023, the cherry blossom forecast for Ise City is March 3th.Various events will be held accordingly.The pleasant temperature is perfect for renting a bicycle.We will introduce cherry blossom spots that can be visited by rental bicycles in Ise City.
*Please note that there is a return time for rental bicycles, although information on lighting up is also posted.
Miyagawa Tsutsumi Park
Isuzu River bank
Former Toyomiyazaki Bunko
Hinokijiri River
Miyagawa Love River Park
It has been selected as one of the 100 Best Cherry Blossom Spots in Japan by the Japan Cherry Blossom Association.It is one of the best cherry blossom viewing spots in the prefecture.
The cherry blossoms will be illuminated from 3:25 to 4:9 from March 18th to April 21th.
Miyagawa embankment Sakura light up
You can enjoy Somei Yoshino and weeping cherry along the Isuzu River from Uji Bridge.
A cherry blossom festival is held at the peak of cherry blossom season, and the area is lit up from 19:21 to XNUMX:XNUMX.
Isuzu River Sakura Festival
●Former Toyomiyazaki Bunko
There are oyanezakura and someiyoshino that have been enacted as trees in Ise City.It will be released for a limited time.
Oyanezakura public information
●Hinokijiri River
It is a first-class river that flows through Funae, a little northwest of the Kawasaki area.Rows of cherry blossom trees continue along the river.
●Miyagawa Love River Park
It is a park where people of all ages can enjoy sports and playground equipment along the Miyagawa River.
What did you think.
Now you can get a lot of information about new wonderful stores and spots from your smartphone such as SNS and news.If you rent a bicycle, you can easily go at your own pace even if you are in the center or a shop outside the transportation route.It feels good to ride a bicycle in an unknown land.
Please use it when you come to Ise.