contents
"Ise" is the old country name. (Part XNUMX)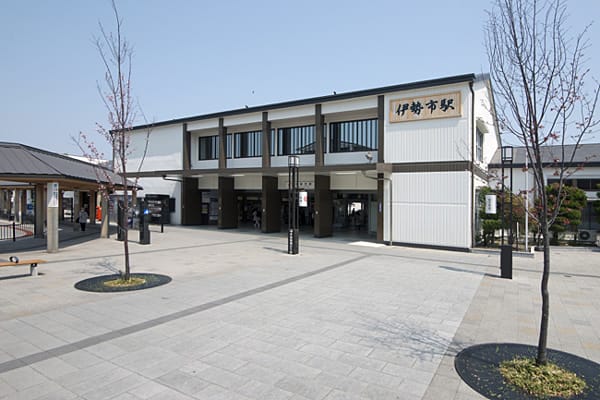 If you come to Sangu by train, the station where you can get off at Geku is "Iseshi Station".
Why is this station name "Iseshi Station" instead of "Ise Station"?I sometimes get the question.

In such a case, if only "Ise" is the old country name, it may refer to a wide area, and in order to distinguish it from that, "city" is included in the meaning of the current Ise city.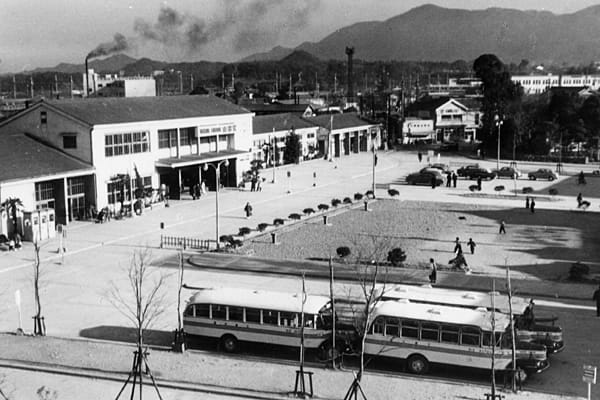 Before the Meiji era, country names such as Satsuma, Shinano, and Echigo were used instead of "prefecture."

And the upper half of Mie prefecture was called "Ise no Kuni".

"Ise City" is a relatively new name that has been used since XNUMX.
So what was it before that?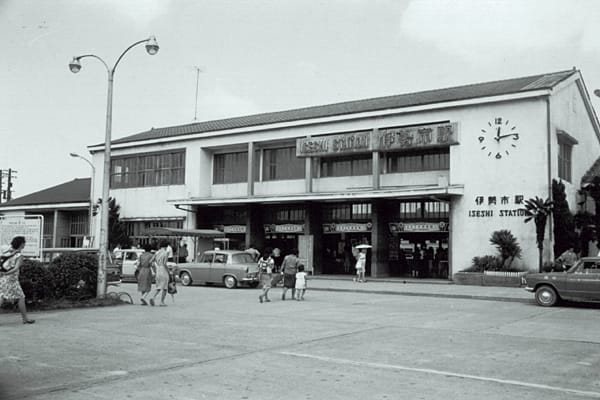 As you may know from the elderly, I said "Uji Yamada City".The town of Toriimae in the inner shrine, which prospered at the shrine, was called "Uji" and the town in front of the outer shrine was called "Yamada". These two towns were the core of Uji Yamada City.

Therefore, "Ise 〇〇", which became famous before XNUMX, was widely used as the old country name to refer to the upper half of Mie prefecture.
Speaking of "Ise merchants", they are large merchants who were active in Edo, mainly in Matsusaka and Saika, but since they came from Ise no Kuni, they are "Ise merchants", and "Ise katagami" is a traditional craft centered on Shirako. However, it got its name because it was evaluated as a wonderful pattern of Ise no Kuni.

Kintetsu's "Ise-Nakagawa Station" is located in the town of Nakagawa in Ise no Kuni. The same applies to each station such as JR's "Ise-Okitsu Station".In the case of station names, when they have the same name, they have been recognized with the old country name in front of them.
Ise City Tourism Association
Vice Chairman Kazutaka Yamanaka
"Ise" is the old country name. (Part XNUMX)
Since XNUMX, when the former Uji Yamada City merged with the surrounding area, it was named "Ise City", and the image that only this city is "Ise" gradually gradually became. I started walking alone.

The "Ise dialect" of the national accent was the accent of the country of Ise, but nowadays many people in Matsusaka and Tsu do not say "Ise dialect".

However, it is an undeniable fact that the name "Ise" strongly associates and symbolizes "Jingu".

Since ancient times, when it appears in tanka, haiku, stories, folk songs, etc., the location "Ise" was used as if to refrain from pointing directly to the Jingu.

Also in the XNUMXth dan of "Takashikusa" written at the end of the Kamakura period
(Omitted)
Everything, the shrine of God (Kami) is a very sloppy thing.Not only is the old-fashioned Mori Ketaru, but also Tamagaki, Sakaki, and Yufuka Ketaru.
Ise, Kamo, Kasuga, Hirano, Sumiyoshi, Miwa ...
(Omitted)

As you can see, "Ise" is mentioned first in the quaint shrine, and in this case, it naturally refers to "Ise" = "Jingu".
You can see that it was used in the same way as it is now, XNUMX years ago.
Ise City Tourism Association
Vice Chairman Kazutaka Yamanaka
"Ise" is the old country name. (Part XNUMX)
In one story of Ise citizens, when I went out of the prefecture, especially far away, when I said "I came from Mie", the reaction was not good, and even if I thought that I did not come, I would say "I came from Ise". There is a good response, "Oh! Is it from Ise!"

I feel the size of existence in my heart rather than the concrete geographical relationship.In this case, the image of Jingu's knees is clearly stronger than the place name.

By the way, Ise and Izumo are probably the only shrines known throughout Japan that have the old country name as their nickname.
There are many shrines that use place names and town names as nicknames, but when it comes to old country names, it is hard to find them.

"Ise-san" as the general god of Japan has existed as a special shrine (Yashiro) for a long time so that Izumo-taisha, which enshrines Okuninushi, the center of the god of the country, is known as "Izumo-san" and "Izumo-mode". It can be seen from this that "the old country name is nicknamed".

As an aside, the main JR station in Izumo City is not "Izumo Station" but "Izumo City Station".This is also the same as Ise.
Ise City Tourism Association
Vice Chairman Kazutaka Yamanaka
The story of a couple visiting the shrine ...
As I walk through the Jingu, I still come across a bus guide who explains this.

"In Ise Jingu, the deity is Amaterasu Omikami. It is a female god. Therefore, it has been said for a long time that if a couple or a lover visits each other, the god will be jealous and the relationship between the two will not go well. I will ... "

Actually, this kind of story is not something that has just begun, and as far as I know, it has been handed down as Showa and Heisei.
Is that so?

When explaining the prohibition of women in mountain worship, "Konohanasakuyahime is a deity in this mountain. I'm jealous because it's a female god ..."
I have to hear it.

However, the deity of the Ise Jingu is Amaterasu Omikami.
Even if you read "Kojiki" and "Nihonshoki", you can't find the character of being jealous of the relationship between men and women. It's not very similar.

So change your perspective
Let's think about who will benefit from the story that "a couple or a lover should not visit the shrine".

It's a detective novel method.
Asakichi Ryokan (The only building left in the town that we can imagine the old age when it is prospered as a place for Yukaku)
Then, I notice that there used to be a Yukaku called "Furuichi" in the town of Ise, although it is no longer open.

In the Edo period, it was said to be "one of the three major Yukaku districts in Japan," and it was a great entertainment district that invited men with senryu, who said, "It's just a short distance to Ise Grand Shrine."It gradually declined in the Meiji and Taisho eras, but it seems that the lights went out completely in XNUMX, when the air raids took place.

The biggest problem for the red-light district is neither the police nor the health center.

It is that a male customer is acting with his wife or lover.

Even if I have a wife or lover, I would like you to come alone only when you come to Ise.And I want you to play in Furuichi and drop your money.For that, it is very convenient to have the most plausible excuses and reasons.

It would be very convenient for Furuichi to be able to make an excuse, "Ise god is a woman, so I'm jealous. I can't go with my husband and wife. Unfortunately, I'll go alone."

Unfortunately, no literature has been found to support this hypothesis.It is unlikely that it will appear as a historical source if it is a story for attracting customers in the entertainment district.However, even considering the godliness of Amaterasu Omikami and the special existence of the Jingu in Japan, I think that the "Do not visit as a couple → Furuichi customer attraction making story" is close to the truth.

Also, I think that the heyday of Furuichi was the Edo period.
It's interesting that even after the lights are completely turned off, more than XNUMX years have passed since the story "A couple is going to visit the shrine ..." is told even though no one asked for it.A unique "story" with excellent copies and wise sayings walks alone and continues to capture people's hearts.
Ise City Tourism Association
Vice Chairman Kazutaka Yamanaka
The story of the Ise Fireworks Festival, where you can feel the spirit of Japanese fireworks artists (Part XNUMX)
Have you ever seen the "Ise Jingu Dedication National Fireworks Festival" held on the banks of the Miyagawa River in Ise City every year in mid-July?Those who have seen it even once may have felt uncomfortable with the "strange fireworks display" because the way it progresses is quite different from other fireworks displays.
Even the local Ise citizens are often asked for harsh opinions such as "plain", "monotonous", "lacking power", and "I prefer XX fireworks".

However, the highlight of Ise fireworks is that it is a little different from the general fireworks display.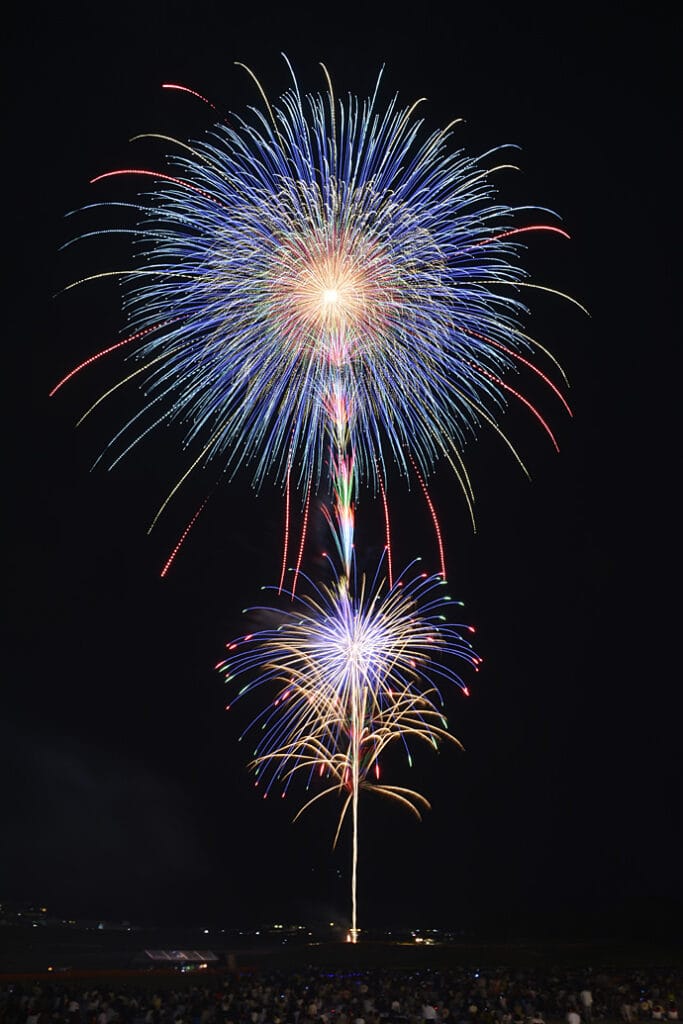 A tournament where enthusiasts who come up with the names of fireworks stores (fireworks masters) compete for "quality" rather than "quantity" so that "the tendency of fireworks of the year can be understood by looking at Ise".

that's right.This is a "competitive fireworks display" where fireworks artists, which are rare in western Japan, compete for their skills.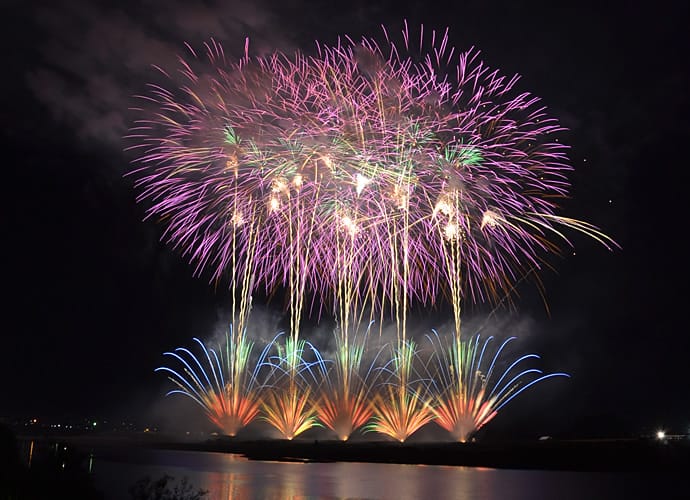 The tournament is divided into two parts, the "launch fireworks section" and the "star mine section", but they will be held alternately.In the case of XNUMX, the fireworks were launched four times and the star mine was once.

If you want to enjoy the fireworks, please get the official pamphlet.In recent years, simple ones have been available on the tournament website.This tournament will become more interesting if you get a little knowledge of launch fireworks in books or on the Internet, but the official pamphlet will help you with that.

Therefore, the expression "good fireworks" comes out.I think that many people have never thought about it, but since it is a competitive fireworks display, there are good and bad judging criteria.

For example, "Tama no Sit" The fireworks that have been launched do not rise or fall, but open at the highest point.Feeling good when you open it with Don Pisha! !!If you open it on the way up, it will become a fan shape, and if you open it while falling, stars will flow.

Don't you think that you can be a little proud if you know other things such as "the disappearances are aligned" and "the shoulders are tight"?And the better the fireworks, the more beautiful it is.It is the same as the difficult technique is decided in figure skating and gymnastics.

I think the fireworks master who manufactures and launches such fireworks (almost handmade !!) is really amazing.
Ise City Tourism Association
Vice Chairman Kazutaka Yamanaka
The Ise Fireworks Festival is a competition where you can feel the spirit of Japanese fireworks artists.Story (Part XNUMX)
I heard that the XNUMX tournament was broadcast live on BS / TBS and was well received.Some experts said that the explanations were easy to understand, and that the fun of fireworks would be deepened if they were taught how to see them.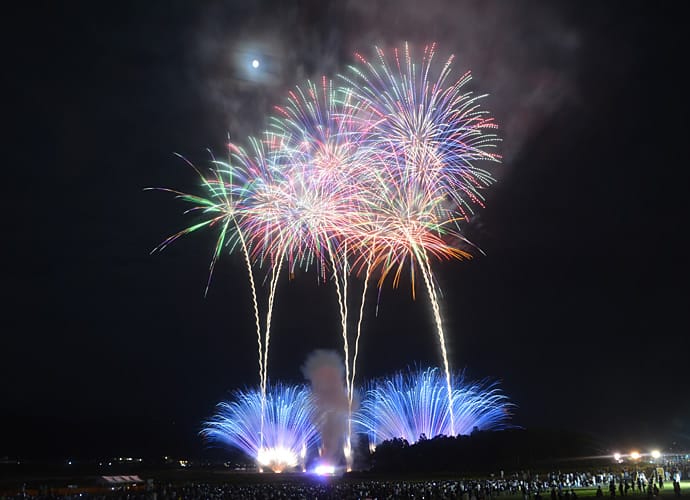 Please enjoy such "chic" that you can see the world-class technology of Japanese fireworks in a momentary brilliance.

In addition, this fireworks display is the one and only event that dedicates fireworks to the Jingu.

For fireworks masters, we will give you the fireworks that Amaterasu Omikami sees.
The budget is tight because it is a local fireworks display.It may be lower.However, many fireworks artists, regardless of budget, launch the highest quality fireworks so that God can see them with all their skills.

It is said that quality, not quantity, is great because of the peculiarity of "Jingu dedication" that is unique to Ise.

When I was chatting with a fireworks artist,
We sometimes hear from the fireworks shop that "the chairman comes to see only Ise", those who say "this tournament calls for families", and special "feelings" for Ise.
Please enjoy the spirit of Japanese fireworks artists this year as well.


Ise City Tourism Association
Vice Chairman Kazutaka Yamanaka