2021.7.6 Update Addition of application period
〇 Mie Prefecture Tourism Business Support Fund
A safe and secure tourist destination with a certification system for tourist operators (accommodation operators, tourist facilities, souvenir shops, experience operators) in the prefecture whose business conditions are deteriorating due to the effects of the new coronavirus infection. We will provide support funds to promote the development and to revitalize and develop the tourist destinations that have been hit.

Please check the following for the target businesses and payment requirements.
http://www.pref.mie.lg.jp.cache.yimg.jp/KANKO/HP/m0145700081.htm (About Mie Prefecture Tourism Business Support Fund)
Application period
Application acceptance: Until Tuesday, August 8 * Postmark is valid
Accept only by mail
Target business operator
Accommodation companies, tourist facilities, souvenir shops, experience companies
Main supply requirements
(1) Monthly sales from April to June of Reiwa XNUMX Year-on-year or year-on-year comparisonso,XNUMX% or more reductionDoing things.
   * Not applicable to facilities opened after July XNUMXnd year of Reiwa.
(XNUMX) Apply for registration to the tourism company version of the "Mie Anshin Hospitality Facility Certification System" implemented by the prefecture.
* For the tourist company version of "Mie Anshin Hospitality Facility Certification System"herePlease confirm.
* You can apply for registration to the tourist company version of "Mie Anshin Omotenashi Facility Certification System" even after applying for this support fund.
 To do.
(3)After April XNUMX, apply for various "time saving request cooperation money", "Mie prefecture restaurant transaction business support money" and "Mie prefecture liquor sales business support money" If so, you cannot apply for this support fund.
[Payment amount]
We will provide support for the monthly sales decrease that meets the payment requirements.
However, the maximum amount of payment below will be the upper limit of the total amount of sales decrease for each month that meets the requirements.

* If you are receiving the national "Monthly Support Fund", the amount will be paid within the upper limit of the amount obtained by subtracting the "Monthly Support Fund" receipt amount from the sales decrease amount.

Monthly support fund homepage  Monthly support fund application consultation counter TEL: 0120-211-240
Maximum amount of payment
○ Accommodation business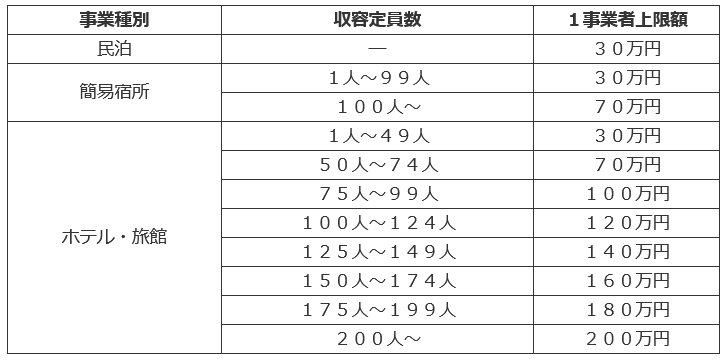 ○ Tourist facilities
○ Souvenir shop
○ Experience business

[Application procedure]
The main documents required for application are
・ Documents that show the amount of sales, such as tax returns and sales ledgers
・ Documents that show that the target business operator / target facility (store) is applicable

Please check the website below for details on how to apply.
http://www.pref.mie.lg.jp.cache.yimg.jp/KANKO/HP/m0145700081.htm
【Consultation counter]
For inquiries regarding support funds, please contact the following consultation desk.

◆ Mie Prefecture Tourism Business Support Fund Secretariat ◆
 Phone number: XNUMX-XNUMX-XNUMX
 Reception hours: XNUMX:XNUMX to XNUMX:XNUMX on weekdays
 * Excluding weekends and holidays
* To prevent the spread of new coronavirus infectionPlease refrain from consultation at the office.Thank you for your cooperation.In addition, please refrain from making inquiries to anyone other than the above secretariat.