Mie Reliable Hospitality Facility Certification System "Anshin Mie Rear"
In order to promote the creation of a safe and secure tourist acceptance system at tourist destinations in the prefecture, we received an application from a tourism company in the prefecture working on infection prevention measures, and the prefecture confirmed the site based on the standards and certified it, and the certification mark (sticker). ) Is issued and the certification facility is open to the public.
By disseminating information on the efforts of each facility to prevent infection, we aim to "visualize" that it is a safe and secure tourist destination.

* Those who are planning to receive "Mie Prefecture Tourism Business Support Fund" and "Prefectural Accommodation Business Infection Prevention Measures Support Subsidy" are required to apply for this certification system.

For details, see the Mie Prefecture websitePlease check from.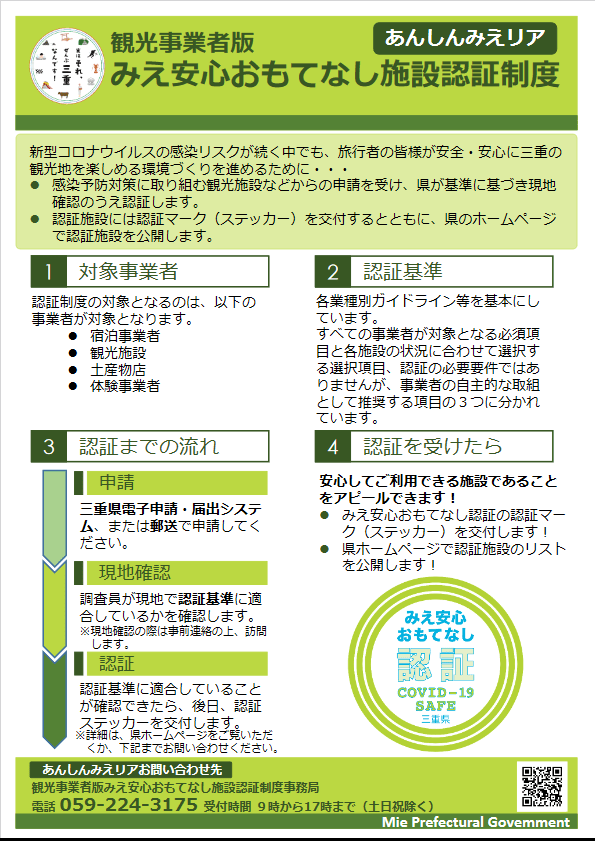 [Target businesses]
Accommodation facilities, tourist facilities, souvenir shops, experience businesses
[Certification criteria]
It is based on guidelines for each industry.It is divided into three items: essential items that all businesses are eligible for, selection items that are selected according to the situation of each facility, and items that are not required for certification but are recommended as voluntary efforts by businesses.
[Flow until certification]
Application Apply by Mie Prefecture Electronic Application / Notification System or by mail.
 ↓
On-site confirmation The investigator confirms that the certification standards are met locally.
    (* Please contact us in advance when checking the site.)
 ↓   
Certification We will issue a certification sticker at a later date if we can confirm that it conforms to the certification standards.

Detail is,Mie homepagePlease see
Please contact us at the following.
[Once certified]
You can appeal that it is a facility that you can use with confidence.
We will issue a certification mark (sticker) for Mie Anshin Omotenashi certification.
About certified facilities
Detailed information on the certified facilities will be released on the dedicated website around the end of July.
【contact information】
Consultation counter (call center)
Phone Number:XNUMX-XNUMX-XNUMX
Reception hours: From XNUMX:XNUMX to XNUMX:XNUMX (excluding weekends and holidays)
Please refrain from making inquiries other than the above.