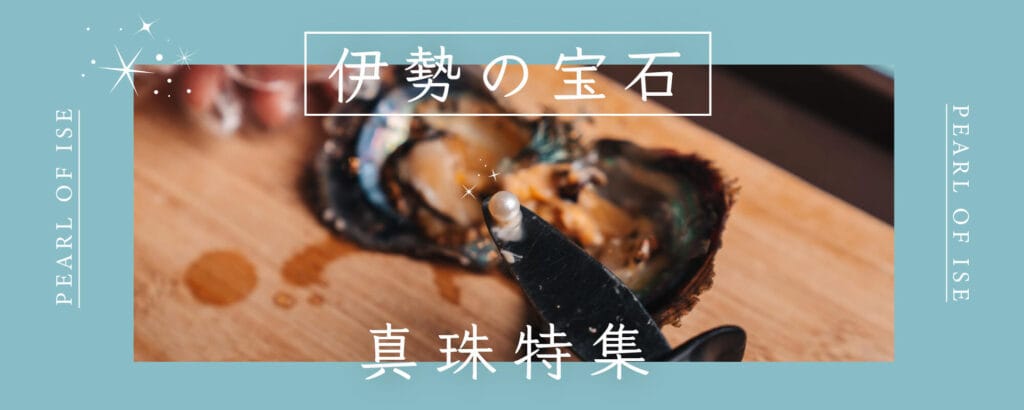 History of Pearls
Pearls have been prized as jewels in many parts of the world since ancient times because of their beautiful luster that has earned them the nicknames such as "moon drops" and "mermaid's tears."There were also cases of them being taken as medicine due to their rarity.Pearl cultivation in Japan began in XNUMX, when Kokichi Mikimoto (XNUMX-XNUMX) discovered five semicircular pearls from Akoya oysters during an experiment.Since the invention of the Akoya shellfish cultivation method, it has developed mainly in Ago Bay, which gained fame as its birthplace.
Pearl Removal Experience
These are shops in Ise City where you can try your hand at extracting one-of-a-kind pearls from the Akoya oysters nurtured in Ise-Shima.*Click the image to go to the shop's website.
We recommend making your own accessories with your pearls.
Major Shops to Buy Pearls in Ise City
These are some shops in Ise City where you can purchase high quality Ise-Shima pearls.Please pay them a visit.
[Around the outer shrine]
Oyama Pearl Shop (大山真珠店)
| | |
| --- | --- |
| Address | 516-0074 Honmachi, Ise City. 18-19 |
| Phone Number | 0596-24-2921 |
| Business hours | 9:00 - 17:00 |
| Regular holidays | None |
[Around Naiku]
Amano Pearl Ise-ten (天埜真珠 伊勢店)
| | |
| --- | --- |
| Address | 516 Ujinakanokiri-cho, Ise City. 0025-7 |
| Phone Number | 0596-20-6300 |
| Business hours | 9:00 - 17:00 |
| Regular holidays | None |
Amano Pearl Oharai-machi-ten (天埜真珠 おはらい町店)
| | |
| --- | --- |
| Address | 516 Ujiimazaike-cho, Ise City. 0024-45 |
| Phone Number | 0596-23-6339 |
| Business hours | 9:00 - 17:00 |
| Regular holidays | None |
Kakuda Pearls (カクダパールズ)
| | |
| --- | --- |
| Address | 516 Ujinakanokiri-cho, Ise City. 0025-33 |
| Phone Number | 0596-20-8628 |
| Business hours | 9:30 - 17:30 (Winter season Nov. 11 to Jan. 16 hours are 1:15 - 9:00) |
| Regular holidays | Tuesdays (or the following day if Tuesday is a national holiday) |
Sanwa Pearl (三和真珠)
| | |
| --- | --- |
| Address | 516 Ujinakanokiri-cho, Ise City. 0025-87 |
| Phone Number | 0596-20-7887 |
| Business hours | 9:00 - 17:00 |
| Regular holidays | None |
Pearl SAKURA (真珠SAKURA)
| | |
| --- | --- |
| Address | 516-0025 Ujinakanokiri-cho, Ise City. 37-4 |
| Phone Number | 0596-29-3688 |
| Business hours | 10:00 - 17:00 |
| Regular holidays | Irregular |
Ise Bijin Honpo (伊勢美人本舗)
| | |
| --- | --- |
| Address | 516-0024 Ujiimazaike-cho, Ise City, Mie Prefecture. 48-1 |
| Phone Number | 0596-21-2340  |
| Business hours | 9:30 - 17:00 (may vary depending on the season) |
| Regular holidays | Irregular |
[Around Futami / Others]
Kikuchi Pearl (菊池パール)
| | |
| --- | --- |
| Address | 516-0012 Tori-cho, Ise City. 112-4 |
| Phone Number | 0596-23-2233 |
| Business hours | 9:00 - 17:00 |
| Regular holidays | Irregular |
Pearl Falco (パールファルコ)
| | |
| --- | --- |
| Address | 516 Isshiki-cho, Ise City. 0011-101 |
| Phone Number | 0596-23-2988 |
| Business hours | 9:00 - 17:00 |
| Regular holidays | None |
Mie Pearls (三重県真珠)
| | |
| --- | --- |
| Address | 519-0602 Futami-cho E, Ise City. 681-16 |
| Phone Number | 0596-43-3091 |
| Business hours | 9:00 - 17:00 |
| Regular holidays | None |
Ise-Shima Pearl Museum (伊勢志摩真珠館)
| | |
| --- | --- |
| Address | 517 Katakami-cho, Toba City. 0014-545 |
| Phone Number | 0599-21-0077 |
| Business hours | 9:00 - 17:00 |
| Regular holidays | None |
Mine Pearls (マインパール)
| | |
| --- | --- |
| Address | 519-0609 Futami-cho Chaya, Ise City, Mie Prefecture. 248-1 |
| Phone Number | 0596-44-1123 |
| Business hours | 10:00 - 17:00 |
| Regular holidays | Saturdays, Sundays, and public holidays |
OISE JEWELRY
| | |
| --- | --- |
| Address | 519 Futami-cho E, Ise City. 0602-580 Ise Meotoiwa Meoto Yokocho No. 32 store |
| Phone Number | 0596-68-9179 |
| Business hours | 9:00 - 16:30 |
| Regular holidays | None |
---
Ise Pearls Map