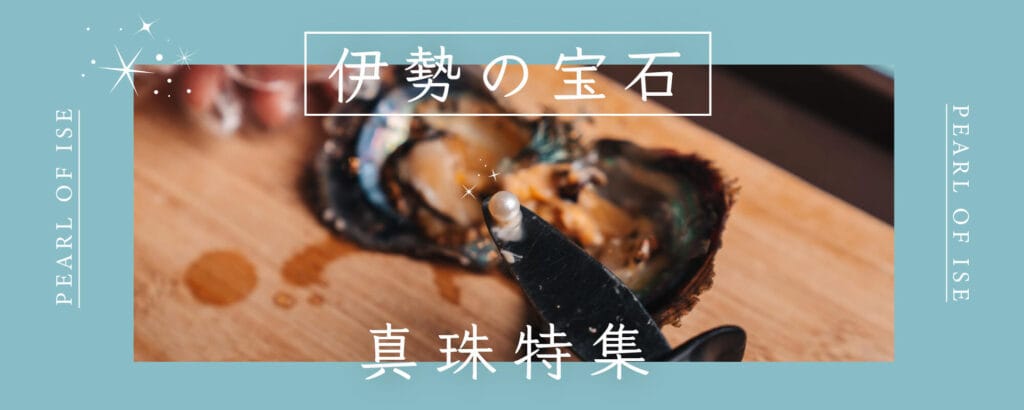 History of pearls
Pearls have been prized as jewels all over the world for a long time because they are so beautiful that they are called "moon drops" and "mermaid tears".In addition, there were cases where it was taken as a medicine due to its rarity.

In 1893 (Meiji 26), Kokichi Mikimoto [1858-1954] discovered five semi-circular pearls from the Akoya pearl oysters under experiment in pearl farming in Japan.Since inventing the pearl oyster farming method, it has developed mainly in Ago Bay and has gained fame as the birthplace.
Pearl removal experience
Introducing a shop in Ise City where you can experience taking out only one pearl in the world from the Akoya pearl oysters grown by Ise-Shima.

* Click the image to go to the homepage of each store.
It is also recommended to make your own accessories from the pearls you took out.
Main stores where you can buy pearls in Ise city
Introducing stores in Ise city where you can buy high quality Ise-Shima pearls.
Please come and visit us.
[Around the outer shrine]
Oyama Pearl Store
| | |
| --- | --- |
| Address | 516-0074 Honmachi, Ise City, 18-19 |
| Phone Number | 0596-24-2921 |
| Hours | 9:00 - 17:00 |
| Regular holidays | None |
[Around Naiku]
Amano Pearl Ise Store
| | |
| --- | --- |
| Address | 516 Ujinakanokiricho, Ise City, 0025-7 |
| Phone Number | 0596-20-6300 |
| Hours | 9:00 - 17:00 |
| Regular holidays | None |
Amano Pearl Oharaicho store
| | |
| --- | --- |
| Address | 516 Ujiimazaikecho, Ise City, 0024-45 |
| Phone Number | 0596-23-6339 |
| Hours | 9:00 - 17:00 |
| Regular holidays | None |
Kakuda Pearls
| | |
| --- | --- |
| Address | 516 Ujinakanokiricho, Ise City, 0025-33 |
| Phone Number | 0596-20-8628 |
| Hours | 9:30~17:30(冬期11/16~1/15は9:00~17:00) |
| Regular holidays | Tuesday (in the case of a holiday, the next day) |
Sanwa Pearl
| | |
| --- | --- |
| Address | 516 Ujinakanokiricho, Ise City, 0025-87 |
| Phone Number | 0596-20-7887 |
| Hours | 9:00 - 17:00 |
| Regular holidays | None |
Pearl SAKURA
| | |
| --- | --- |
| Address | 516-0025 Ujinakanokiricho, Ise City, 37-4 |
| Phone Number | 0596-29-3688 |
| Hours | 10:00 - 17:00 |
| Regular holidays | Irregular |
Ise Bijin Honpo
| | |
| --- | --- |
| Address | 516-0024 Ujiimazaikecho, Ise City, Mie Prefecture 48-1 |
| Phone Number | 0596-21-2340  |
| Hours | 9: 30-17: 00 (varies depending on the season) |
| Regular holidays | Irregular |
[Around Futami / Others]
Kikuchi Pearl
| | |
| --- | --- |
| Address | 516-0012 Toricho, Ise City, 112-4 |
| Phone Number | 0596-23-2233 |
| Hours | 9:00 - 17:00 |
| Regular holidays | Irregular |
Pearl Falco
| | |
| --- | --- |
| Address | 516 Isshiki-cho, Ise-shi, 0011-101 |
| Phone Number | 0596-23-2988 |
| Hours | 9:00 - 17:00 |
| Regular holidays | None |
Mie pearls
| | |
| --- | --- |
| Address | 519-0602 Futamichoe, Ise City 681-16 |
| Phone Number | 0596-43-3091 |
| Hours | 9:00 - 17:00 |
| Regular holidays | None |
Ise-Shima Pearl Museum
| | |
| --- | --- |
| Address | 517, Katakamicho, Toba City, 0014-545 |
| Phone Number | 0599-21-0077 |
| Hours | 9:00 - 17:00 |
| Regular holidays | None |
Mine Pearl
| | |
| --- | --- |
| Address | 〒519-0609 248-1 Futamicho Chaya, Ise City |
| Phone Number | 0596-44-1123 |
| Hours | 10:00 - 17:00 |
| Regular holidays | Saturdays, Sundays and public holidays |
OISE JEWELRY
| | |
| --- | --- |
| Address | 519 Futamichoe, Ise City 0602-580 Ise Meotoiwa Meoto Yokocho No. 32 store |
| Phone Number | 0596-68-9179 |
| Hours | 9:00 - 16:30 |
| Regular holidays | None |
---
Ise Jewel Pearl Map