About the situation such as closure of sightseeing related facilities in Ise city
Ise City Tourist Information Center and Baggage Storage to prevent the spread of new coronavirus infection
It will be closed from Friday, August 3, 8rd year of Reiwa.
8 / 27-Ise City Tourist Information Center / Baggage Storage Suspension Notice

In addition, we are taking measures such as temporary closure at tourism-related facilities in Ise City.
Please check here for updates as needed.
About the situation such as closure of sightseeing related facilities in Ise city
Mail order site free shipping campaign
Ise City Tourism Association Online Shop

Free shipping on purchases over 2,000 yen only now! 
Coupon code for purchases of 4,000 yen or more
Enter "ISE-KANKO" to get 1,000 yen off!
The campaign is underway.

There are many products that can only be bought here on the net!

↓ The mail order site is here.

Ise Clean Daisakusen
The Ise City Tourism Association is working on the new coronavirus infection prevention measure "Ise Clean Daisakusen".
Please cooperate in preventing infection and spread, such as disinfecting hands, cough etiquette, and introducing a contact confirmation app.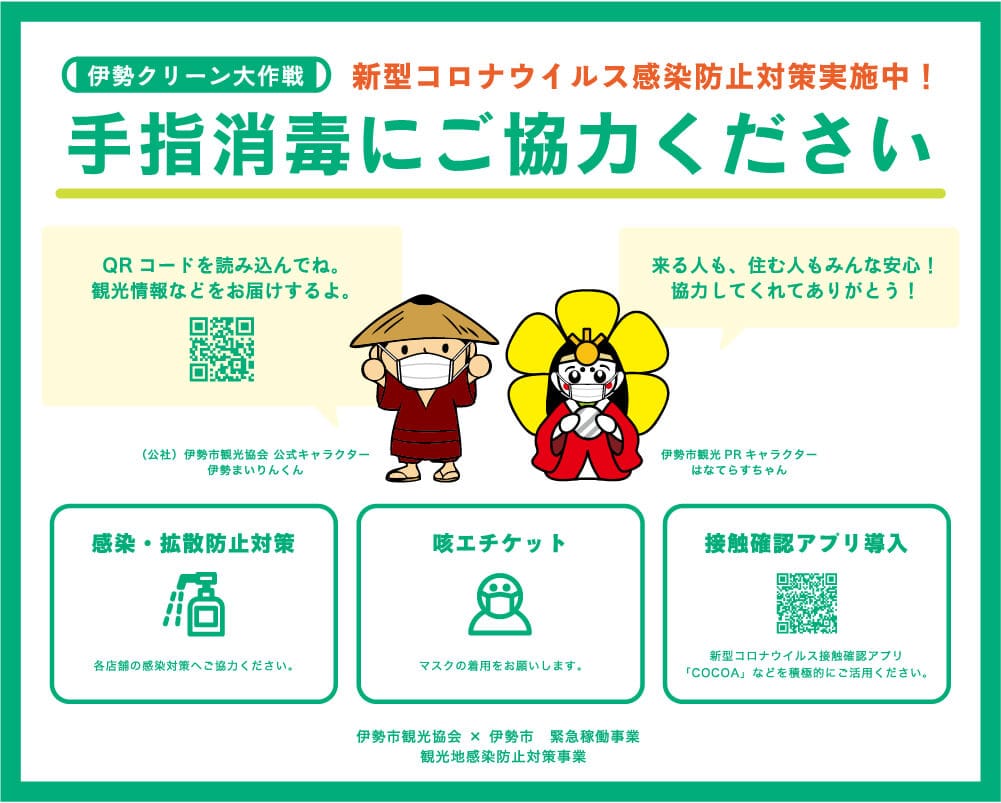 This is a list of stores, facilities, and sightseeing spots that have alcohol in Ise City.
Delivery of congestion status such as tourist spots
Congestion status distribution such as sightseeing spots is carried out for major sightseeing spots in Ise city.Please see the current congestion status from the link below.