Takayuki Eel Ise Eel Shop Beginning
Ise town. In this town, which has been entertaining tourists for a long time as the gate town of "Ise-san", there are many shops that put up a sign saying "U".
It seems that there are roughly fifty eel restaurants around the city.
This is the story of an eel shop that is handed down in Ise-the story of the fragrant "taste and heart" related to kabayaki.
It was about XNUMX years ago.There was a young man named Yakichi in a town near Geku.
Living with an elderly father and mother.According to what I hear, this plasterer's couple, who lived next door to Yakichi when he was five years old and had no one to support his parents, felt sorry for him and took it over and raised him as his own child. ..
Yakichi was kind-hearted, and it was his son who was a parent.While living a daily life that I can't afford, I always smile and cheer up, and at the same time, I work to make my parents feel at ease.
In the daytime, I followed the work of my father's plasterer, kneaded mud and carried it, and primed the walls.To become a good craftsman as soon as possible, my hands and face are covered with mud and I work hard.In the evening, I helped my mother, helped the house, and ran.Everyone in the neighborhood was impressed by the diligent work.
However, when Yakichi reached the age of fifteen in the spring, he was about to become a filial piety, and the trouble was that his father's physical condition was strange.
(Isn't it tired after a long period of hard work? It looks like I've lost weight.) To Yakichi, who is worried.
"Well, it's not a big deal. It will be cured soon."The father laughed, but even after ten days and twenty days, it wouldn't be the same.Not only that, I finally got to know the floor.
(I wish it was a medicine that worked well. I have to support my life at home, what should I do?) A nearby merchant who just returned from the Edo store to Yakichi, who asked around with anxiety. But he taught me something really good.
"Maybe it's best to say" kabayaki "and eel roasted. Recently, there are many eel shops in the town of Edo. It's delicious. It's very popular because it's good for you. "
That night, Yakichi wholeheartedly baked the one eel he had finally obtained for his father.
"It tastes good. Somehow, it melts on your tongue and gives you strength."
Yakichi decided on the words of his father. (Okay, until it happens. Let's eat it every day. Well, I have money ... Yeah! Better yet, bake more.) Yakichi's face shined. .. (Let's bake eels for internal work and sell them. It will be a foothold for living, and two birds with one stone !!)
In this way, after finishing the work of the plasterer in the daytime, Yakichi began to put the quickly baked kabayaki in a heavy box and sell the towns of Ise before dinner.
"Kabayaki, Kabayaki. Freshly baked eel kabayaki, I don't know."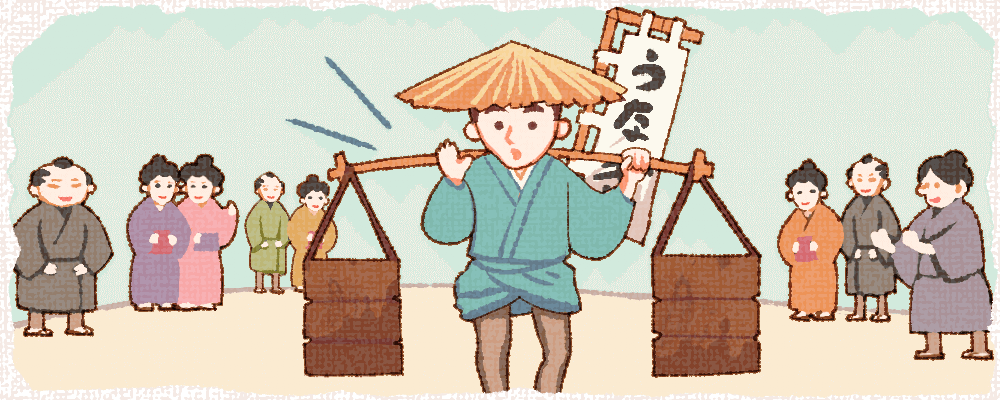 When it gets dark and I get home, I have to prepare for the next day at night.In the meantime, at a short time of [Ai], Yakichi always sits by his parents and rejoices by telling all the interesting stories and strange events he heard that day.That was the most enjoyable thing about Yakichi.
Yakichi's peddling continued on both rainy days and windy days.
At first, I only did people who bought it because it was rare, but of those, I got the delicious taste of freshly baked horses twice or three times.Furthermore, I was impressed by Yakichi's earnest work, and after that, the number of customers who were good at it gradually increased.
"I work every day, every day. I'm really impressed when I want to play."
"And again, the deliciousness of this eel. I wonder if it tastes like filial piety."
"Thank you. Thank you again."
Yakichi's eels are very prosperous.Thanks to this, even if you pack it in a large heavy box and carry it in front of and behind it, it will sell out in just a short time.My father has completely regained his energy.
Eventually, it became popular as a "filial eel", and this story finally came to the ears of Yamada Bugyo, who holds Ise.
"What a pity that I should do my best to my parents without being afraid."
Along with the words of gratitude, Yakichi received a copper five-piece sentence, and since then, the name of Takayuki Eel has become more and more widespread throughout the town.
After that, when Yakichi opened a store near the peddler, he heard rumors and received a thousand customers from afar.Also, when his son succeeded this and became an eel shop, his family luck finally became Takamasa, and now it has become a famous Japanese-style inn in Ise. (end)