About Mie Reliable Hospitality Facility Certification System "Anshin Mie Rear"
-Mie Prefecture certifies restaurants, etc. that work on measures to prevent infection with the new coronavirus infection-
Even as the risk of infection with the new coronavirus continues, in order to promote the creation of an environment where citizens of the prefecture can eat and drink with peace of mind, we receive applications from restaurants, etc. that are working on infection prevention measures, and the prefecture certifies after on-site confirmation based on the standards. , It is a system to issue stickers and open to the public as certified stores.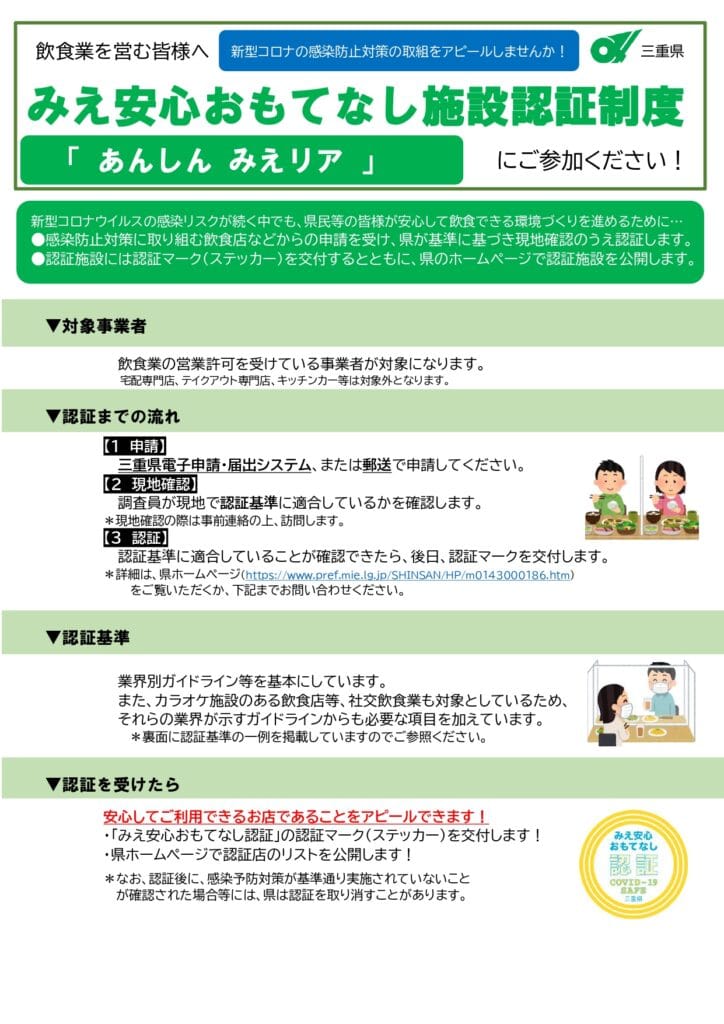 Target business operator
Businesses that have a business license for the restaurant business
* Delivery specialty stores, take-out specialty stores, kitchen cars, etc. are not eligible.
Flow until authentication
① Application: Apply by Mie Prefecture Electronic Application / Notification System or by mail

(XNUMX) On-site confirmation: The investigator confirms on-site whether the certification standards are met.

(XNUMX) Certification: If it is confirmed that the product conforms to the certification standards, a certification mark will be issued at a later date.

For details, please see the Mie Prefecture website or contact the consultation desk below.

Mie homepage
https://www.pref.mie.lg.jp/SHINSAN/HP/m0143000186.htm

Certification criteria
Based on industry-specific guidelines.Please refer to the following for an example of certification standards.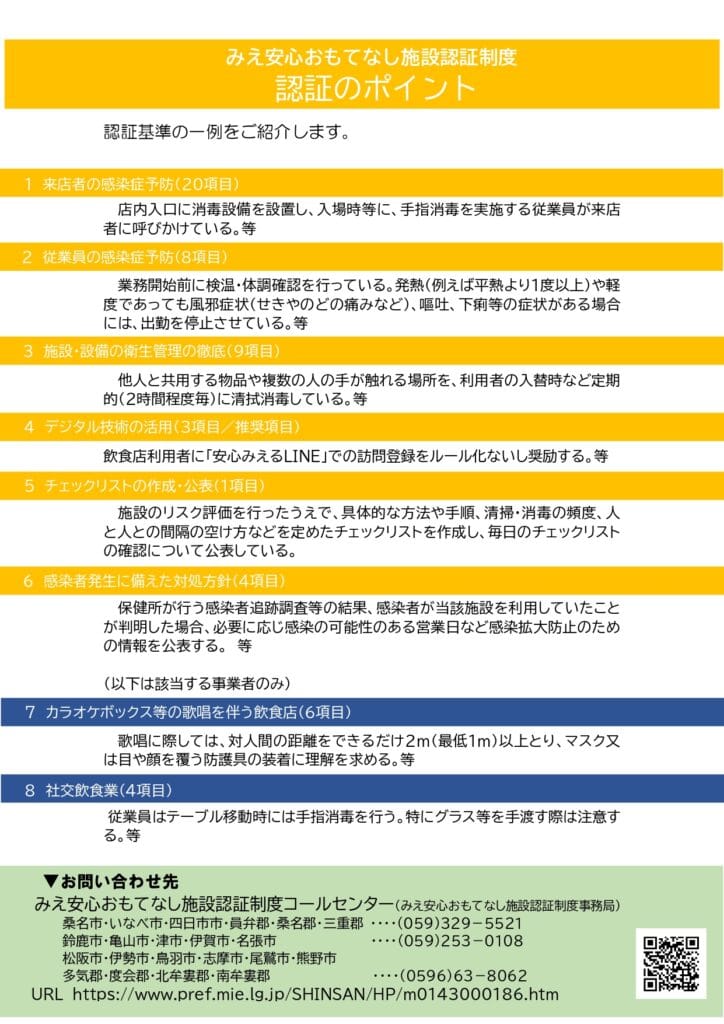 Consultation counter (call center)
Contact information for Ise City (excluding weekends and holidays)
Phone number: XNUMX-XNUMX-XNUMX

Or phone number: XNUMX-XNUMX-XNUMX
Reception hours: XNUMX:XNUMX to XNUMX:XNUMX (excluding weekends and holidays)
* From Wednesday, June 6, the telephone number and reception hours have been changed as described above.
Mie homepage
https://www.pref.mie.lg.jp/SHINSAN/HP/m0143000186.htm