Geku-sando street
Geku area
Souvenir
leisure
[Gekusando]
When you exit the ticket gate on the JR side of Iseshi Station, you will see a large wooden torii gate.The road from there to the Ise Jingu Geku is the "Geku approach".It is about 400m from Iseshi station to Geku, about XNUMX minutes on foot.Ryokan, restaurants, and souvenir shops line the approach to the outer shrine.At night, the lanterns of Ise Washi will light up.
Sotomiya approach map
Map of the approach to the outer shrine
Map around the approach to the outer shrine that continues from Iseshi Station to Ise Jingu and Geku (created in June 2022)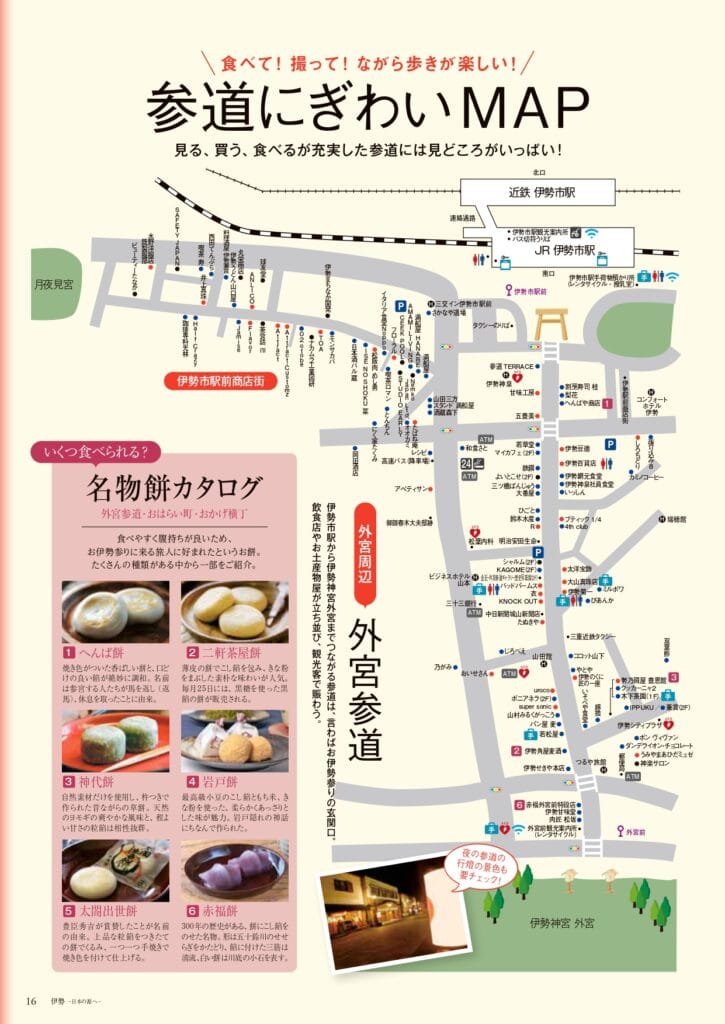 How to enjoy the approach to the outer shrine
It is also recommended to dine at Ise udon, a specialty of Ise, seafood and Matsusaka beef shops, or spend a relaxing time at a popular cafe.Be sure to try the famous mochi that Ise citizens love!Check out Kikuichi Ise, a knife shop where you can fortune-tell myths.
Map data (PDF 2.4MB)
Useful information on the approach to the outer shrine
I want to check my baggage
There is a baggage storage and coin locker in front of Ise City Station.There is also a paid service at the Geku-mae Tourist Information Center and some stores on the approach to the Sotomiya.
I want to send my baggage to my accommodation
At the baggage storage at Iseshi StationDelivery reception times If you leave it by, we will deliver your baggage to your accommodation (excluding remote islands) in the Ise, Toba, and Shima areas on the same day.
Please check the details for prices and other information. 
[Click here for details on baggage storage and delivery services]
Recommended cafes around the outer shrine and Ise specialty rice cakes
Information on new stores on the approach to Sotomiya, etc.
・ "Ice at XNUMX:XNUMX" has opened! (Become the Geku-mae Tourist Information Center)
・ The Akafuku Geku Mae special store also sells coffee from Isuzugawa Cafe. (Akafuku and coffee are fine)
Address

Honmachi, Ise City, Mie Prefecture 516-0074
Access

Public transportation: Immediately after getting off the JR ticket gate from JR / Kintetsu Iseshi Station
Car: Approximately 5 minutes from the Ise Nishi IC on the Ise Expressway